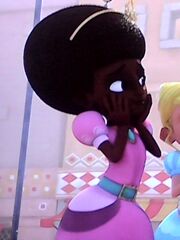 Barbara is a character in My Knight and Me.
Appearance
Barbara has a dark skin tone, brown eyes, and a dark afro. She dons a pink princess dress, a green belt around her waist, and a tiara.
Personality
Not much is known about Barbara's personality, as she only has a few voice lines. She enjoys playing the bongos, even though she is unskilled in it.
In Jimmy Works Out she is one of the three damsels who swoons over his swole.
Trivia
Barbara has a somewhat British accent.